Scientific Committee:
Organizing Committee:
Contact Information:
Denis Serbin
email: dserbin

stevens.edu
phone: (201) 216-5425
Our sponsors: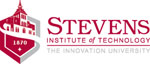 Welcome to the First Online Seminar dedicated to Group Theory and Non-Commutative Algebra.
The seminar presents a unique opportunity for mathematicians from around the world to communicate and share their ideas on a regular basis without leaving the office or even home. Participants include faculty and students from US, Canada, Australia, Europe and Russia.
If you are a first-time participant please visit the technical advice page.
Click here to enter the meeting room
Next Presentation
Thursday, October 16, noon (New York Time)
Nicholas Touikan (Stevens Institute of Technology)
"On some algorithmic problems in nilpotent groups"
Click here to enter the meeting room
Abstract:
I will present two algorithmic problems: effective separation of torsion by congruence subgroups and the mixed Whitehead problem. The solvability of these problems is one of the main steps needed to apply the method, developed by F. Dahmani and myself, to "lift" solutions of the isomorphism problem from a class of parabolic groups to the corresponding class of relatively hyperbolic groups.
I will sketch our solution for Nilpotent groups, and then discuss why we haven't been able to generalize this result any further.
Seminar Schedule Fall 2014