Scientific Committee:
Organizing Committee:
Contact Information:
Denis Serbin
email: dserbin

stevens.edu
phone: (201) 216-5425
Our sponsors: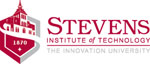 Welcome to the First Online Seminar dedicated to Group Theory and Non-Commutative Algebra.
The seminar presents a unique opportunity for mathematicians from around the world to communicate and share their ideas on a regular basis without leaving the office or even home. Participants include faculty and students from US, Canada, Australia, Europe and Russia.
If you are a first-time participant please visit the technical advice page.
Click here to enter the meeting room
Next Presentation
Thursday, November 6, noon (New York Time)
Khalid Bou-Rabee (City College of New York, CUNY)
"Linear groups with Borel's property"
Click here to enter the meeting room
Abstract:
When does Borel's theorem on free subgroups of semisimple Lie groups generalize to other groups? In this talk, we present a systematic study of this question and arrive at positive and negative answers for it. In particular, we find a full classification of fundamental groups of surfaces and von Dyck groups that satisfy Borel's theorem. We also discuss connections with a question of Breuillard, Green, Guralnick, and Tao concerning double word maps.
Seminar Schedule Fall 2014