Scientific Committee:
Organizing Committee:
Contact Information:
Denis Serbin
email: dserbin

stevens.edu
phone: (201) 216-5425
Our sponsors: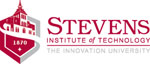 Welcome to the First Online Seminar dedicated to Group Theory and Non-Commutative Algebra.
The seminar presents a unique opportunity for mathematicians from around the world to communicate and share their ideas on a regular basis without leaving the office or even home. Participants include faculty and students from US, Canada, Australia, Europe and Russia.
If you are a first-time participant please visit the technical advice page.
Click here to enter the meeting room
Next Presentation
Thursday, November 20, noon (New York Time)
Artem Shevlyakov (Omsk State University, Russia)
"Compactness properties of systems of equations"
Click here to enter the meeting room
Abstract:
We consider systems of equations over groups and semigroups. For any infinite system of equations S one can set the following problems.

Is there a finite subsystem S0 of S, which is equivalent to S?
Solve (a) if S is consistent.
Suppose an equation t = s is satisfied by all solutions of S. Is there a a finite subsystem S0 of S such that t = s is deduced from S0?

Thus, we are going to talk about the Noetherian property and other close properties. We explain examples (groups or semigroups), where the problems (a)-(c) are solved positively (or negatively).
Seminar Schedule Fall 2014