Scientific Committee:
Organizing Committee:
Contact Information:
Denis Serbin
email: dserbin

stevens.edu
phone: (201) 216-5425
Our sponsors: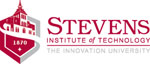 Welcome to the First Online Seminar dedicated to Group Theory and Non-Commutative Algebra.
The seminar presents a unique opportunity for mathematicians from around the world to communicate and share their ideas on a regular basis without leaving the office or even home. Participants include faculty and students from US, Canada, Australia, Europe and Russia.
If you are a first-time participant please visit the technical advice page.
Click here to enter the meeting room
Next Presentation
Thursday, February 5, noon (New York Time)
Svetla Vassileva
(Concordia University, Canada)
"Logspace and compressed word computation in finitely generated nilpotent groups"
Click here to enter the meeting room
Abstract:
We discuss the computation of normal forms, the membership problem, the conjugacy problem, and computation of presentations for subgroups in nilpotent groups. We show that these problems are solvable using only logarithmic space and, simultaneously, in quasilinear time. We also show that compressed-word versions of these problems, in which each input word is provided as a straight-line program, are solvable in polynomial time.
Seminar Schedule Spring 2015