Scientific Committee:
Organizing Committee:
Contact Information:
Denis Serbin
email: dserbin

stevens.edu
phone: (201) 216-5425
Our sponsors: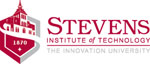 Welcome to the First Online Seminar dedicated to Group Theory and Non-Commutative Algebra.
The seminar presents a unique opportunity for mathematicians from around the world to communicate and share their ideas on a regular basis without leaving the office or even home. Participants include faculty and students from US, Canada, Australia, Europe and Russia.
If you are a first-time participant please visit the technical advice page.
Click here to enter the meeting room
Next Presentation
Thursday, April 16, noon (New York Time)
Volker Diekert
(Universitšt Stuttgart, Germany)
"Solutions for equations in free groups and EDT0L languages"
Click here to enter the meeting room
Abstract:

Let F=F(A) be a free group and W=1 be an equation with constants in A and variables X1,...,Xm over F.
In a joint work with Laura Ciobanu and Murray Elder we showed that the set of all solutions of W is an EDT0L language. This means: there is a nondeterministic finite automaton (NFA) with the following properties.

The labels of the automaton are endomorphisms over a free monoid with involution C*.
We have (A ∪ A-1)* ⊆ C. (Thus, C is an extended alphabet.)
There are special symbols S1,..., Sm in the alphabet C such that Xi ↦ h(Si) defines a solution of W in reduced words if h is an endomorphism of C* which labels an accepting path in the NFA. Moreover, every solution in reduced words can be described in this way.

The construction of the NFA is effective. It has at most exponential size in the input and can be constructed in nondeterministic quasi linear space. As a corollary we obtain that the existential theory in free groups can be decided in NSPACE(n log n). This result improves previously known bounds; and it has the potential to be optimal with respect to space.
Seminar Schedule Spring 2015