Scientific Committee:
Organizing Committee:
Contact Information:
Denis Serbin
email: dserbin

stevens.edu
phone: (201) 216-5425
Our sponsors: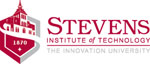 Welcome to the First Online Seminar dedicated to Group Theory and Non-Commutative Algebra.
The seminar presents a unique opportunity for mathematicians from around the world to communicate and share their ideas on a regular basis without leaving the office or even home. Participants include faculty and students from US, Canada, Australia, Europe and Russia.
If you are a first-time participant please visit the technical advice page.
Click here to enter the meeting room
Next Presentation
Thursday, March 6, noon (New York Time)
Rémi Coulon
(Vanderbilt University)
"Partial periodic quotients of the mapping class group"
Click here to enter the meeting room
Abstract:
We are interested in some quotients of the mapping class group G of a compact surface of genus at least 2. More precisely, given a subset S of G and an integer n we study the quotient obtained by "killing" the n-th power of every element of S. In particular, we will consider the case where S is the set of all Dehn twists or all pseudo-Anosov elements. As an example we provide infinite quotients of mapping class groups where a fixed power of every pseudo-Anosov homeomorphism is identified with a periodic or reducible element.
The techniques that we will present can also be used to exhibit partial periodic quotients of many groups acting on a hyperbolic space.
Seminar Schedule Spring 2014