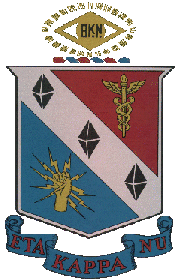 We are the Iota Delta chapter of Eta Kappa Nu Honor Society. Thanks for visiting this site where you will find detail information on the philosophy that is taught at Stevens Institute of Technology.
All the students at this site are a part of the Computer Engineering/Electrical Engineering Department at Stevens. They have excelled in all areas of Academia and Leadership and have abided by the Stevens Honor System. They have further achieved a 3.2 GPA and continued to show leadership qualities to be a part of Steven's best.
Our department head is Dr. Tewksbury and the administrative advisor of this chapter is Dr. Boesch, both of whom are easily accessible for further information on what this chapter has to offer to anyone that meets the requirements. To all other chapters in the Eta Kappa Nu organization we hope that you find our site informative and professional.
Any technical issues concerning the user-friendliness of this site should be sent directly to our new webmaster.