The Hanlon Financial Systems Lab
From Hanlon Financial Systems Lab Web Encyclopedia
The state-of-the-art Hanlon Financial Systems Lab is the heart of the Financial Systems Center in Stevens. This lab came into being as a result of a generous gift by Stevens Trustee and Alumnus, Sean Hanlon. The Lab will integrate the latest hardware and software technologies, accessing real-time data, as well as historical time series data, to support innovative research into the most common, complex and urgent problems in contemporary finance.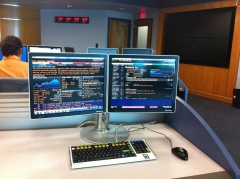 The lab will also serve as a teaching and training venue for faculty, students and industry. The Hanlon Financial Systems Lab combines:
Advanced financial research and training facilities;
A software engineering lab for both development and validation;
A cyber-security testing facility based on the Stevens team-oriented cyber-security approach;
The combination of all three functions in a single integrated financial systems laboratory will be the first of its kind. It will also support Stevens Undergraduate degree programs in Quantitative Finance and Cyber-security as well as Graduate programs in Financial Engineering, Systems Security Engineering and Software Engineering. The lab has equipped 30 powerful HP work stations, 12 of which are Bloomberg Terminals, through which one can access any kind of data according to their requirements and needs. As a partner, Bloomberg supports in providing unlimited number of accounts.