ICAP
From Hanlon Financial Systems Lab Web Encyclopedia
ICAP plc is a UK based voice and electronic dealer broker and provider of post trade risk services, the largest in the world carrying out transactions for financial institutions rather than private individuals. ICAP is an abbreviation for Intercapital, a name by which the business was previously known. The company is listed on the London Stock Exchange and is a constituent of the FTSE 250 Index.

ICAP Information empowers customers to make trading decisions with authoritative and independent OTC market information across key asset classes. They provide data services across our broked product range and offer innovative solutions for real-time, end-of-day and historical products.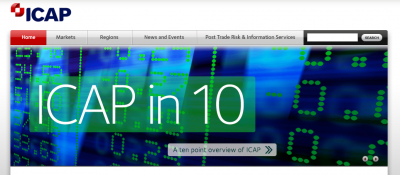 Their data is the intelligence behind algorithmic trading and research models for customers and is a key source of mark-to-market data for the industry. With $1.4 trillion of average daily volume traded by ICAP fed into our data products, there are almost 30 million average daily data updates in over 96,000 instruments delivered to end users.

As the leading provider of OTC market information, ICAP Information is at the forefront of delivering independent data solutions to financial market participants.

ICAP trades in a number of areas, including
Interest Rates,
Credit,
Credit derivatives,
Foreign Exchange,
Intellectual Property (patents, via ICAP Patent Brokerage)&
Equity Derivatives.


ICAP plc is headquartered in London, United Kingdom and operates from London, New York (Jersey City) and Tokyo with offices in a further 21 smaller financial centres such as Madrid and Sydney. The average daily transaction volume for ICAP plc exceeds US$1.4 trillion, more than 60% of which is electronic.

The business is managed across the following three divisions:

Voice Broking (by geographic region)
Electronic Broking &
Post-Trade Risk and Information <br /
References & Sources:

WikiPedia
ICAP Official Website
Image source : ICAP website