Bloomberg Terminal
From Hanlon Financial Systems Lab Web Encyclopedia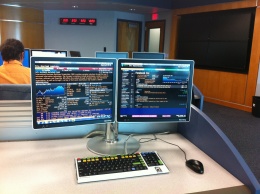 What is a Bloomberg terminal?
The Bloomberg Terminal is a computer program provided by Bloomberg L.P. that enables professionals in finance and other industries to access the Bloomberg Professional service through which users can monitor and analyze real-time financial market data movements and may place trades on the electronic trading platform[1] (please note the trading capabilities are disabled on the lab terminals). The system also provides news, price quotes, and messaging across its proprietary secure network. Most large financial firms have subscriptions to the Bloomberg Professional service. The system provides news and analytics almost for over 129 countries and 250 exchanges [Citation needed]. Bloomberg market coverage includes: governments, preferred, corporate, mortgages, money markets, municipals, equities, commodities, indices, currency, and derivatives. All Bloomberg Terminals are leased in 2 year cycle, with leases based on how many displays are connected to each terminal. To access Bloomberg services, you must be physically sitting at a terminal, and must have a current account.
Where are the Bloomberg terminals located?
We have 12 Bloomberg Terminals equipped in our Hanlon Financial Systems Lab. Ten of the terminals are located in the teaching section of the lab and are easily identifiable since they use white monitors and distinctive keyboards. The lab assistants may also help locating the terminals. Two of the terminals are located in the research room. Access to the research room needs approval by your faculty advisor.
Getting Started
How to get a new account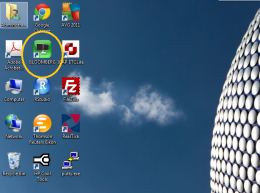 1. Open the BLOOMBERG shortcut on the desktop (see picture on the right)
2. Choose language and Press Enter or <Go> to begin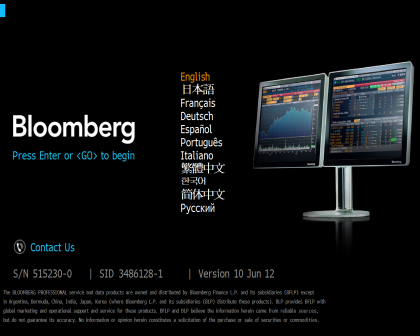 3. Choose Create a New Login to get your own Bloomberg Account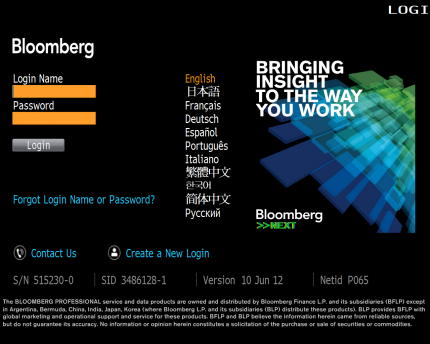 4. Fill in personal information and click Continue
5. For every new account, Bloomberg needs a validation code. The code may be sent via SMS Text Message or Automated Voice Call. Enter your phone number, and continue. Once you receive the code, enter it to activate your account.
6. Congratulation! Now, you have your own Bloomberg account. Log in, and check it out.
7. After you logging in, if you need help, just press HELP key (top-left of the keyboard). There are many options, which could meet your needs. One particularly useful code is typing CHEAT in the terminal which brings a page with helpful shortcuts.
Getting help
There are several ways to get help:
Using the instruction manual provided in the lab
Within the Bloomberg terminal, if you need help, press the <help> key, found on the upper left corner of the keyboard, does exactly what it says it does, provides users with help.
Contact any lab administrator for assistance
You can also access Bloomberg help desk by double pressing the <help> key, which provides real-time assistance to users 24 hours a day, 7 days a week.
Earning a Bloomberg Acknowledgement
Bloomberg offers the Essentials Online Training Program, through which users can earn an acknowledgment of training with various instruments such as Equities, Fixed Income, Foreign Exchange, and Commodities. Being familiar with the resources available through Bloomberg is an invaluable tool for any professional in the financial field.
Why Get Bloomberg Acknowledged?
Bloomberg is a global leader in providing financial information about publicly traded companies worldwide as well as news and economic data. At least 250,000 Bloomberg terminals are used by investment professionals around the world. Corporate recruiters are seeking candidates with competitive technical and financial technology skills. The ability to obtain data quickly is critical to financial professionals. Employers place great emphasis on having well-trained employees. In an increasingly competitive market, the more tools you have in your educational arsenal, the better.
Who is Eligible?
All faculty, staff, and students currently enrolled in Stevens Institute of Technology are eligible to enroll in the Bloomberg Essentials Online Training Program. There is no charge for the training. Once you have a Bloomberg user account, you can take the training program. You have one academic semester to start and complete training or follow the adviser's advice.
Bloomberg Essentials Online Training Program
Bloomberg provides Essentials Online Training Program to all users. It has two parts: four Bloomnerg Core videos will familiarize you with basic Bloomberg functionality; Market Sector videos will introduce you to market fundamentals. Students in some certain may be required to complete the Bloomberg Essentials Online Training Program during the semester in which they are enrolled in the course. Any other student may receive Bloomberg training at his or her own pace. To complete the training, students may utilize the Bloomberg terminal in the Hanlon Financial Systems Lab, when it is available. To start the Training Program, you just need log in and type in BESS and <go>, then following the system instruction.
Acknowledgement Requirements
The Online Training Program has two parts: four Bloomberg Core videos will familiarize you with basic Bloomberg functionality; Market Sector videos will introduce you to market fundamentals. In order to gain an acknowledgement, one must first watch four core videos (Getting Started, Bloomberg News, Market Monitors and Launchpad, and API), and then one of the market sector videos (Equity Essentials, Fixed Income Essentials, Forex(FX) Essentials, and Commodity Essentials). After watching the four core videos you are to pass the core exam. To earn an Acknowledgement of Completion in a market sector, in addition to passing the core exam you must also pass the market sector exam. Thus, it is possible to earn an Acknowledgement of Completion in all four market sectors by watching the four core videos and the four market sector videos, and by passing the one core exam and all four market sector exams; i.e., watching a total of eight videos and taking a total of five exams. Once you completed both of the two exams with a sore of 75% or higher for each, you may request acknowledgement through the Bloomberg terminal. You may retake each exam one time. We strongly encourage anyone who pursues the acknowledgement to take the time you need to explore the system and practice before taking the exams.
Bloomberg Terminal Availability
Please check Lab calendar for open hour schedule on Lab Calendar page.
Bloomberg Representative Training Section
TBD
Bloomberg Application Program Interface (API)
There are several ways to communicate with Bloomberg terminal, such as EXCEL, MATLAB and so on. And we believe that the EXCEL is the priority one.
EXCEL
The Bloomberg Excel Add-in is a powerful complement to the Bloomberg Professional Service. The Excel Add-in empowers users to leverage the same high quality, timely data and calculations they rely on within the Bloomberg Professional to fuel their proprietary spreadsheets.
Bloomberg provides useful tutorial with example in systems. Type in XTPL followed by <GO> and then choose Tutorials, you can open Bloomberg excel API tutorial.
Furthermore the Bloomberg Excel Add-in enables you to perform Bloomberg's financial calculations on a given scenario for single or multiple securities. For example, where there is a relationship between two or more financial variables (such as price and yield) you can use the Scenario Builder to override or set a value for one of the variables and see the outcome that this produces in the other variable.
So if you enter say a price of a bond in Excel the yield calculation takes place in Bloomberg but the result is displayed in your spreadsheet virtually instantly! For further information please enter API <go> the menu which also includes ready made Excel sheets for your use!
MATLAB
MATLAB also supplies API support to enable user to communicate with Bloomberg. The Datafeed Toolbox in MATLAB provides a bunch of functions to establish connections to Bloomberg.
See more information in MathWorks.
References
↑ "Bloomberg Professional" Bloomberg