Bloomberg Terminal
From Hanlon Financial Systems Lab Web Encyclopedia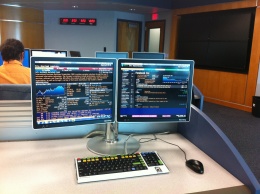 What is a Bloomberg terminal?
A Bloomberg Terminal is a computer program provided by Bloomberg L.P. that enables professionals in finance and other industries to access the Bloomberg Professional service through which users can monitor and analyze real-time financial market data movements and may place trades on the electronic trading platform[1] (please note the trading capabilities are disabled on the lab terminals). The system also provides news, price quotes, and messaging system across its proprietary secure network. Most large financial firms have subscriptions to the Bloomberg Professional service. The system provides news and analytics almost for over 129 countries and 250 exchanges[2]. Bloomberg market coverage includes: governments, preferred, corporate, mortgages, money markets, municipals, equities, commodities, indices, currency, and derivatives. All Bloomberg Terminals are leased in 2 year cycle, with leases based on how many displays are connected to each terminal. To access Bloomberg services, you must be physically sitting at a terminal, and must have a currently activated account.
Where are the Bloomberg terminals located?
We have 10 Bloomberg Terminals equipped in the Hanlon Financial Systems Lab I and 8 Bloomberg terminals located in the Hanlon Financial Systems lab II. They are easily identifiable since they use white monitors and a color-coded keyboards to provide users with quick access to data and available functions. The lab assistants may also help you locate the terminals. One more terminal is located in the research room, next to the Hanlon Financial Systems lab I. Access to the research room requires approval by your faculty advisor.
Getting Started
Bloomberg Tutorial

How to get a new account

1. Open the BLOOMBERG shortcut on the desktop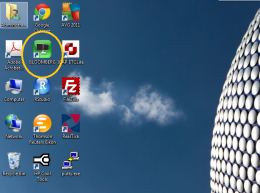 2. Choose language and Press Enter or <Go> to begin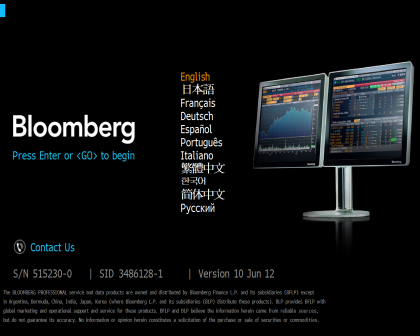 3. Choose Create a New Login to get your own Bloomberg Account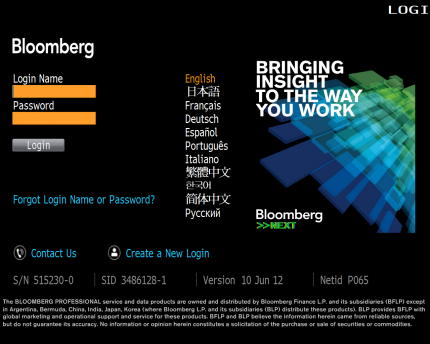 4. Fill in personal information and click Continue
5. For every new account, Bloomberg needs a validation code. The code may be sent via SMS Text Message or Automated Voice Call. Enter your phone number, and continue. Once you have received the code, enter it to activate your account.
6. Congratulations! Now, you have your own Bloomberg account.
7. After logging in, if you need help, just press HELP key (F1 on the keyboard). There are many options, which could meet your needs. One particularly useful code is typing CHEAT in the terminal which brings a page with helpful shortcuts.
Getting help
There are several ways to get help:
Using the instruction manual provided in the lab
Within the Bloomberg terminal, if you need help, press the <help> key, F1 on the keyboard, does exactly what it says, provides users with help.
Contact any lab administrator for assistance.
You can also access Bloomberg help desk by hitting the <help> key twice. An email form will appear; you should receive a reply to your question within 24 hours.
Earning a Bloomberg Acknowledgement
Bloomberg offers the Essentials Online Training Program, through which users can earn an acknowledgment of training with various instruments such as Equities, Fixed Income, Foreign Exchange, and Commodities. Being familiar with the resources available through Bloomberg is an invaluable tool for any professional in the financial field.
Why Get Bloomberg Acknowledged?
Bloomberg is a global leader in providing financial information about publicly traded companies worldwide as well as news and economic data. At least 250,000 Bloomberg terminals are used by investment professionals around the world. Corporate recruiters are seeking candidates with competitive technical and financial technology skills. The ability to obtain data quickly is critical to financial professionals. Employers place great emphasis on having well-trained employees. In an increasingly competitive market, the more tools you have in your educational arsenal, the better.
Who is Eligible?
All faculty, staff, and students currently enrolled in Stevens Institute of Technology are eligible to enroll in the Bloomberg Essentials Online Training Program. There is no charge for the training. Once you have a Bloomberg user account, you can take the training program. You have one academic semester to start and complete training or follow the adviser's advice.
Bloomberg Market Concept
Bloomberg Market Concepts (BMC) is an 8-hour self-learning course which consists of 4 modules – Economics, Currencies, Fixed Income and Equities. Registered students will be able to access these modules and complete the certificate at the terminals located in both Hanlon Financial System Labs. The course format comprises of about 8 hours of teaching videos, one hour for each first two modules - Economics and Currencies- and three hours for the second two modules; Fixed Income and Equities. In the middle of each video, students are required to answer several questions related to the topic. After completing these videos, they will receive a BMC certificate from Bloomberg LP. The combination of this e-learning facility and available Bloomberg courses at Stevens such as "FE-511- Introduction to Bloomberg and Thomson Reuters" is a great opportunity for students to gain quantitative skills and extensive experience with financial modeling.
Bloomberg Terminal Availability
Please check both Lab I and II calendars for open hours schedule on Hanlon Lab Calendar and Hanlon Lab II Calendar pages.
Bloomberg Representative Training Section
TBD
Bloomberg Application Program Interface (API)
In addition to Bloomberg terminals, both labs provide an extensive set of software packages and databases for Stevens' financial community. There are several ways to communicate with Bloomberg terminal, such as EXCEL, MATLAB and so on. And we believe that the EXCEL is the priority one.
EXCEL
The Bloomberg Excel Add-in is a powerful complement to the Bloomberg Professional Service. The Excel Add-in empowers users to leverage the same high quality, timely data and calculations they rely on within the Bloomberg Professional to fuel their proprietary spreadsheets.
Bloomberg provides useful tutorial with example in systems. Type in XTPL followed by <GO> and then choose Tutorials, you can open Bloomberg excel API tutorial.
Furthermore the Bloomberg Excel Add-in enables you to perform Bloomberg's financial calculations on a given scenario for single or multiple securities. For example, where there is a relationship between two or more financial variables (such as price and yield) you can use the Scenario Builder to override or set a value for one of the variables and see the outcome that this produces in the other variable.
So if you enter say a price of a bond in Excel the yield calculation takes place in Bloomberg but the result is displayed in your spreadsheet virtually instantly! For further information please enter API <go> the menu which also includes ready made Excel sheets for your use!
MATLAB
MATLAB also supplies API support to enable user to communicate with Bloomberg. The Datafeed Toolbox in MATLAB provides a bunch of functions to establish connections to Bloomberg.
See more information in MathWorks.
R
The powerful package: Rblpapi, has enabled many students to be able to conduct statistical analysis and mathematical operations on Bloomberg data provided that R itself is an outstanding software in the statistical computing. The reference manual of Rblpapi can be found at: https://cran.rproject.org/web/packages/Rblpapi/Rblpapi.pdf
Sometimes this manual does not contain the specific instructions on how to achieve certain goals in our computing, and it is because that R itself is not officially recognized by Bloomberg as one of the programming language to deploy the API. Nevertheless, it contains all the functions just as all other API libraries in other languages such as python, java, etc. Another place to look for advance solutions would be: https://data.bloomberglp.com/labs/sites/2/2014/07/blpapi-developers-guide-2.54.pdf This would give you much greater details in what to look for when something goes wrong.
Q&A
Q: Bloomberg plugin does not work in Excel.
A: Turn off Bloomberg and Excel -> Install Bloomberg tools -> Open excel again, it will appear in excel. If it does not work, just restart the computer and install the tool. (For first-time users, they need to install the tool before using it)
References
From old Bloomberg Page
Bloomberg L.P. is an American multinational mass media corporation based in New York City.Bloomberg L.P. was founded by Michael Bloomberg with the help of Thomas Secunda, Duncan MacMillan,and Charles Zegar in 1981 and a 30% ownership investment by Merrill Lynch.The company provides financial software tools such as analytics and equity trading platform, data services and news to financial companies and organizations around the world through the Bloomberg Terminal (via its Bloomberg Professional Service),its core money-generating product. Many customers use only a small fraction of the machine's 30,146 functions.Bloomberg L.P. has grown to include a global news service, including television, radio, the Internet and printed publications. Its current headquarters are located at the Bloomberg Tower, in Midtown Manhattan, New York City.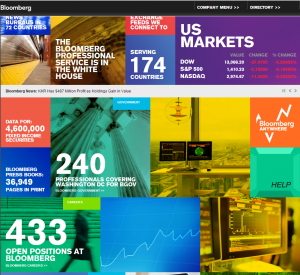 Bloomberg L.P. was formed as a Delaware Limited Partnership in 1981 and has been in business since 1983. Michael Bloomberg owns 88% of the partnership. Bloomberg's core business is leasing terminals to subscribers. It also runs Bloomberg Television, a financial Television network, and a business radio station WBBR in New York City. Bloomberg's revenue for 2009 was estimated at $6.25 billion. Based on that estimate, the new projections would push revenue to nearly $6.9 billion for 2010.There are currently over 300,000 Bloomberg Terminal subscribers worldwide.Bloomberg makes up one third of the $16 billion global financial data market with estimated revenue of $6.25 billion in 2009.
See Bloomberg Terminal for Bloomberg tutorial.

More about the company Bloomberg


References & Sources:

* WikiPedia

* Bloomberg Official Website

* Image source : Bloomberg website