Difference between revisions of "Bloomberg"
From Hanlon Financial Systems Lab Web Encyclopedia
Line 17:
Line 17:
 
 
 

[http://www.bloomberg.com/radio/ Bloomberg Radio]<br />

 

[http://www.bloomberg.com/radio/ Bloomberg Radio]<br />

 
+
 
+
 
+
 
+
 
+
 
+
---
Revision as of 15:05, 19 November 2012
Bloomberg L.P. is an American multinational mass media corporation based in New York City.Bloomberg L.P. was founded by Michael Bloomberg with the help of Thomas Secunda, Duncan MacMillan,and Charles Zegar in 1981 and a 30% ownership investment by Merrill Lynch.The company provides financial software tools such as analytics and equity trading platform, data services and news to financial companies and organizations around the world through the Bloomberg Terminal (via its Bloomberg Professional Service),its core money-generating product. Many customers use only a small fraction of the machine's 30,146 functions.Bloomberg L.P. has grown to include a global news service, including television, radio, the Internet and printed publications. Its current headquarters are located at the Bloomberg Tower, in Midtown Manhattan, New York City.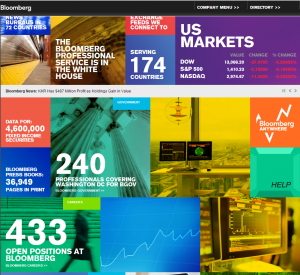 Bloomberg L.P. was formed as a Delaware Limited Partnership in 1981 and has been in business since 1983. Michael Bloomberg owns 88% of the partnership. Bloomberg's core business is leasing terminals to subscribers. It also runs Bloomberg Television, a financial Television network, and a business radio station WBBR in New York City. Bloomberg's revenue for 2009 was estimated at $6.25 billion. Based on that estimate, the new projections would push revenue to nearly $6.9 billion for 2010.There are currently over 300,000 Bloomberg Terminal subscribers worldwide.Bloomberg makes up one third of the $16 billion global financial data market with estimated revenue of $6.25 billion in 2009.
More about the company Bloomberg

References & Sources:

WikiPedia
Bloomberg Official Website
Image source : Bloomberg website